Biomedical &
Cell Culture
Scale cellular agriculture, cell therapy, organoids, and tissue regeneration using our high-precision microcarriers and advanced stem cell microencapsulation.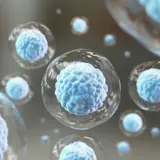 Unlock superior performance and scalability with in-air microfluidics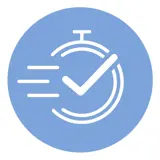 1.000 x throughput
Vs. traditional chip-based microfluidics, scalable from grams to kg/ton volumes.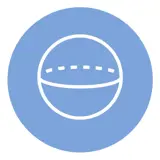 Monodispersity
Uniform size and shape for maximum control over culture conditions and cell behavior.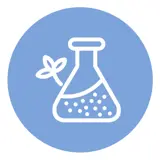 Process survival
No microplastics, no emulsifiers, and no oils/ PFAS that can pollute or damage sensitive bio-actives.
Effective microencapsulation of live cells and sensitive biologics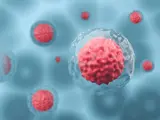 In-air microfluidics technology was invented to effectively encapsulate live human stem cells with speed and high throughput. Our mild process has low shear stress and no use of toxic solvents or emulsifiers, which results in more than 95% live cell survival. 
The material versatility supported by our patented technology allows us to create tunable microcapsules with a wide range of biodegradable and biocompatible ingredients for optimal cell performance. 
Increase efficiency with one-step additive manufacturing and injection molding of 3D multiscale modular (bio)materials using controlled in-air solidification of microdroplets.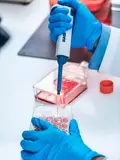 Organoids and tissue regeneration research
Stem cells are being used to re-create human tissues and organoids in 3D culture systems to advance regenerative medicine research and treatments for several diseases, conditions, and genetic disorders. This field also has a promising potential to speed up and improve the validation process of new treatments and drugs without animal testing.
Microencapsulation of stem cells can improve cell aggregate monodispersity and increase process efficiency, contributing to the feasibility of tissues and organoids for clinical and industrial applications. Our patented technology can help scientists overcome traditional microfluidics' scalability limitations and accelerate research to fast-track access to new therapies.
Microcarriers for cell and gene therapy
Microcarriers are widely used for the large-scale culture of cells and the production of viral vectors for cell and gene therapy, where precision control has an important impact on performance and growth conditions. In-air microfluidics technology allows us to produce high volumes of microcarriers with unparalleled monodispersity and quality to meet the demand of this growing market. Our patented process and formulations are compatible with a wide range of materials, such as collagen and gelatin, to support the production of pharmaceutical-grade microcarriers.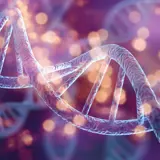 Microcarriers for cellular agriculture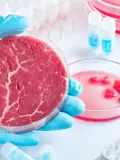 Scaling cultured meat production and making it affordable are some of the main challenges to expanding this promising and sustainable market segment. 
With significantly higher throughput volumes than traditional chip-based microfluidics, our technology improves microcarrier performance with precise spherical shape and size control for better cell attachment and proliferation in 2D and 3D cell cultures.
We co-develop formulations and scale the production of custom microcarriers using dissolvable biodegradable materials to replace microplastics and avoid dissociation steps that compromise efficiency. Vegan microcarriers are also available in our solutions portfolio for cellular agriculture development. 
Schedule a meeting to explore new solutions with our scientists