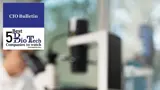 IamFluidics is the proud winner in the top 5 Biotech companies to watch in 2021 according to CIO Bulletin
CIO Bulletin is a pre-eminent international interactive leadership platform that serves as a central source for information about business and IT leaders and their business ventures. They strive to keep their readers informed about how the tech giants, governments and consumers are deploying organizational innovation in the Business & IT world.
"Globally, there are various firms specializing in microparticles and their application, but IamFluidics BV stands from the rest. IamFluidics BV uniquely enables the high-throughput production of uniform microparticles.", according to CIO Bulletin.

So our technology and its possible applications stand out and we are very pleased with that! For this occasion, CIO Bulletin interviewed our CEO Michiel van Alst to learn more about IamFluidics and our technology. At IamFluidics we developed a proprietary and disruptive microencapsulation process that is 1000x faster than conventional droplet microfluidics, while offering similar precision and versatility. This enables us to meet the demand to produce at industrial production scales while maintaining the high quality.

The interview once again illustrates how passion for technology leads to striking innovation. These innovations are, amongst others, deployed in microfluidics for the personal care and cosmetics market. Are you looking for a new formulation? We invite you to get in touch and meet our team.