World's first in-air microfluidics production plant [VIDEO]
With the 1.3 million grant from REACT-EU, IamFluidics can revolutionize microparticles for a healthier planet in two important ways:
Open the world's first in-air microfluidics plant for eco-friendly production of plastic-free microparticles.
Produce a new plastic-free and vegan nutraceutical microcapsules that support weight loss to help increase population health after the covid pandemic.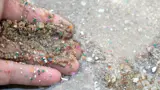 The imperative to eliminate microplastics
While the general population is increasingly worried about the human impact on environment and climate, scientific research increases as well. One of the major concerns is microplastics, which have been detected in human blood and breast milk [1], [2] with yet undiscovered consequences.   
IamFluidics' mission is to revolutionize microparticles for a healthier planet. In doing so, we use science to create solutions that allow production of plastic-free microparticles. However, in order to achieve real impact, it is not sufficient to simply achieve the production of a plastic-free particle. Plastic-free particle production should be able at such a scale, that it becomes a viable commercial alternative to the current production methods. And pharma, food and cosmetics companies stop viewing plastic microparticles as a 'necessary evil'.
[1] Discovery and quantification of plastic particle pollution in human blood, Environment International, Volume 163, May 2022, 107199 [https://www.sciencedirect.com/science/article/pii/S0160412022001258]
[2] Ragusa, Antonio et al. "Raman Microspectroscopy Detection and Characterisation of Microplastics in Human Breastmilk." Polymers vol. 14,13 2700. 30 Jun. 2022, [https://doi.org/10.3390/polym14132700]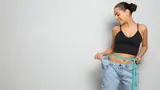 Producing healthy microcapsules
Launched in 2020 after the first Covid-pandemic, the REACT-EU program focusses on innovations that foster crisis repair capacities and contribute to a green, digital and resilient recovery of the economy.
To this end, our consortium is e.g. developing healthy microparticles that can support weight loss. This new plastic-free and vegan nutraceutical product called 'SlimBeadTM' is based on a clinical trial led by consortium partners Dr. Meinou Corstens and Prof.Dr.Ir. Karin Schroën from Wageningen University. Together, they discovered that adding very small oil-containing capsules into food can reduce food intake without changing product appearance or taste.
Pitch video
Watch the pitch video in which our CEO Michiel van Alst explains how IamFluidics' technology is revolutionizing microparticles for a healthier planet, and in which Dr. Corstens comments on our new weight management microcapsules.