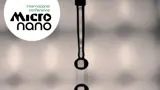 Save the date: iMNC21
On December 2nd and 3rd, MinacNed will host the 17th edition of the International MicroNanoConference in the Jaarbeurs, Utrecht. After one and a half years of online meetings and webinars we look forward to attending the conference. An extra reason is the fact that on behalf of IamFluidics our CTO Tom Kamperman will present his latest research on December 2nd.
The international MicroNanoConference brings science and industry together to show how micro- and nanotechnology help tackle our societal challenges: Nano4Society.

On behalf of IamFluidics, Tom Kamperman PhD, will give a presentation on the speed and scalability in production of monodisperse microparticles by using in-air microfluidics (IAMF) which is a platform technology that enables the chip-free manipulation of microfluidic streams.

Via the controlled impact of multiple microjets, this off-chip approach is readily compatible with the production of monodisperse droplets, particles, and fibers at per-nozzle rates that exceed conventional microfluidics up to a 1000-fold.

Moreover, IAMF is compatible with solidifying co-flows, which aids the direct deposition of oil-free in-air formed particles. This capacity uniquely enables the one-step additive manufacturing of 3D multiscale modular metamaterials.

This session will be devoted to the various possibilities that are becoming available through the use of microfluidic tools, and their scale-up to create food ingredients with, for example, controlled release properties aimed at creating health effects.

So save the date and register on: https://www.micronanoconference.org/
We are looking forward to meeting you in Utrecht!